"It wasn't me, I swear!"
This article is fan-made!

Its content was not created by the author of Chakra, but by one of its awesome readers!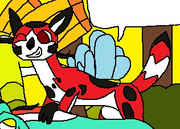 Biedronka plays a role in Chakra, Alternate version. She first appears soon after Led and Ważka arrive in he valley of he wind. Being playful, she went ahead and tackled Led, joking on how she caught her "prey". After that, she joins Ważka in today's training for Led to earn his wings.
Later on she appears the next morning, a bit confused by the situation. She was silent most of the time until Szafir was hit. Saddened, she charged over, trying to save Szafir from his fate, but it was fruitless as she misses in the last second. After that though, she blamed herself for not being able to save him and mourns over Szafir's death.
Ad blocker interference detected!
Wikia is a free-to-use site that makes money from advertising. We have a modified experience for viewers using ad blockers

Wikia is not accessible if you've made further modifications. Remove the custom ad blocker rule(s) and the page will load as expected.